Eastern Ornamental Fence & Railing is backed by over 50 years experience in the fence business as a manufacturer and distributor. With this knowledge and experiences, we can ensure that our products will always provide a clean and beautiful fence line.
What they said...
"Offering the line of Eastern Ornamental Fence & Railing products was the best decision we ever made. Our customers are always please with the results when we install any these wonderful aluminum products. The quality is superior and exactly what our customers are looking for."
Dejan H.
Challenger Fence, Inc.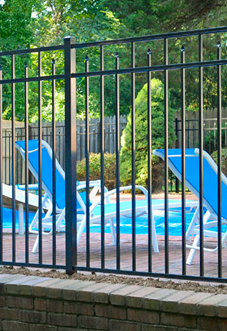 Made in the USA. Eastern Ornamental has the best aluminum products in the industry.
If you're looking for supreme distinctive creative styles and consistent quality wood fencing, look no further. Eastern Ornamental Aluminum Fence Products are skillfully hand crafted with one of the fastest delivery rates in the nation.
Our Aluminum Fencing Products are sold through a network of quality professional fence dealers throughout the United States. We would ask that you quite simply contact your local Eastern Fence dealer and ask for "Eastern Ornamental Fence Brand" by name.